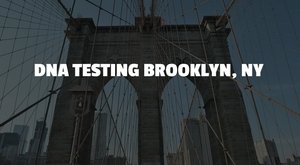 For Appointments Call 347-735-5490 To Get Started
REVIEWS
5(based on 1 reviews)
Process went pretty much the way it was explained except for my results were a day latter than I was told. But the service was professional and the office was clean. Ms Adjei 06/14/2017
How to do a Paternity Test for Brooklyn, NY residents?
To get started please, contact our office and allow one of our DNA Testing Experts the opportunity to answer your question about DNA Testing in Brooklyn or to schedule an appointment today the number to call is 347-735-5490.
What is a Paternity Testing?
A paternity test is a test that determines the biological relationship between an alleged father and a child.
How much is a DNA Test for Brooklyn residents? 
The cost of DNA Paternity Test starts at $199.00 depending on the type of paternity test you are performing. Below are the types of Paternity Tests we provide.
Legal Paternity Test – This type of DNA Test can be used for a Birth Certificate name change, court-ordered paternity tests and estate court cases etc.
Non-Legal Paternity – This type of DNA Test can be used only for informational purposes only.
Immigration Paternity Test – This type of test can only be used if an immigration office is requesting an alleged father to provide proof of biological relationship with his offspring. If you would like to learn more about this process please contact one of our Immigration DNA Testing Experts at 347-735-5490

to inquire about your specific situation.
---
ACCREDITATION:
ALL DNA TESTS ARE PERFORMED BY AN AABB ACCREDITED PARENTAGE LABORATORY AND NEW YORK STATE DEPT OF HEALTH (NYSDOH)
---
Areas we service in Brooklyn, NY
WILLIAMSBURG. GREENPOINT. BUSHWICK AND EAST WILLIAMSBURG. BEDFORD-STUYVESANT AND CROWN HEIGHTS. FORT GREENE AND CLINTON HILL. PROSPECT HEIGHTS. PARK SLOPE AND PROSPECT PARK. GOWANUS, FLATBUSH, EAST NEW YORK, ROCKAWAYS, CANARSIE, 
If you do not see your Brooklyn neighborhood above does not mean we do not service your area. Please contact our office today to learn more about how we coordinate appointments. The number to call is, 347-735-5490
DNA Testing for Grandparents, can it be done without the father?
The answer to this question is yes. Normally this test can be performed with one or both parents of the biological father. If the mother of the child is available, it is recommended the mother partake in the Grandparent DNA Test for a higher accuracy of the result.
To learn more about this type of DNA test please contact one of our DNA Testing Experts at 347-735-5490.
Do you need Paternity Testing services and you or someone you know live in the Bronx? If so, please see the areas we service in the Bronx here.
Other DNA Testing services we provide are:
Siblingship DNA Testing process
DNA Testing for mother and child
GrandParents DNA Testing
Avuncular DNA Testing
---
RELATED VIDEOS